Plasti-Bond is a leader of PVC-coated rigid metal conduit and fittings and raises the bar in electrical innovation every day. We continue to introduce new products and upgrades in corrosion protection for electrical raceway systems in demanding environments.
The Plasti-Bond Difference
Plasti-Bond PVC-Coated Products UL 1203 Listed.
In an industry first, Plasti-Bond's line of PVC-coated hazardous location (classified) fittings are UL 1203 listed, including Sealing Fittings, Conduit Unions, GUA Outlet Boxes and EC Series Flexible Couplings.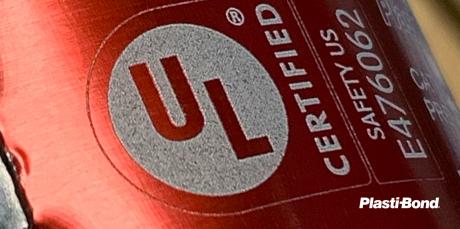 The UL 1203 listing mark applies to products manufactured in accordance with UL requirements and are verified by a UL field representative quarterly. Maintaining this stringent verification is how we demonstrate our ongoing commitment to the highest quality and safety standards.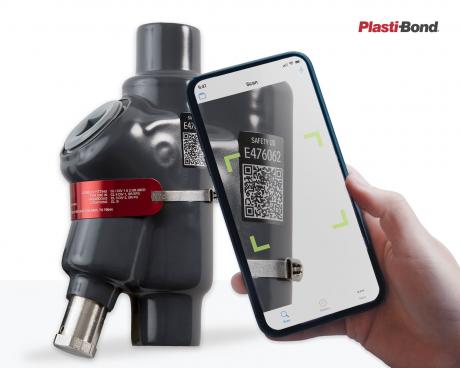 Plasti-Bond also features the smart UL certification mark and badge that offer convenient access to product information. The imprinted QR code instantly connects to the UL Smart Marks hub, providing vital information immediately on site.
If there is no UL label, the product you're using is NOT UL Listed.
Plasti-Bond PVC-Coated Form 8 Condulet Bodies 
Plasti-Bond's Form 8 condulet bodies are certified Type 4X by UL and have earned IEC's IP69 rating. This is critical for electrical specifiers who require high corrosion resistance and ingress protection on their projects. 
Industry Usage
Food & Beverage
Pharmaceutical Facilities
Refineries
Transportation Infrastructure: Bridges & Tunnels
Water & Wastewater Treatment Facilities
What do UL Type 4X and IP69 ratings mean?
UL Type 4X – Meets all requirements for a watertight enclosure, corrosion protection and appropriate coatings according to UL 514A.
IEC IP69 (Ingress Protection) Rating – Highest protection rating on the scale; dust tight and suitable for regular high-pressure, high-temperature wet cleaning.
Plasti-Bond V-Seal® Gasket
Our patented V-seal gasket provides the most effective seal for PVC-coated Form 8 conduit bodies (sizes 1/2″ to 4″) and Mark 9 fittings. Plasti-Bond's special v-shaped interlocking groove ensures a strong defense against the ingress of dust, water and other foreign matter.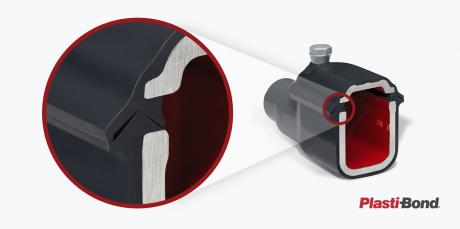 Plasti-Bond PVC Coated Sealing Locknut
Conduit thread exposure at points of connection are the weakest links in any electrical system and can lead to corrosion and reduced structural integrity. Plasti-Bond sealing locknuts provide a consistent seal over uncoated, exposed conduit threads. Plus, the built-in gasket positively seals out water, oils and other liquids. 
The simple, detachable PVC-coated conduit sleeve offers a consistent seal over the exposed threads at the point of connection. Located on the reverse side of the locknut, the sleeve fits securely over the adjacent coated conduit.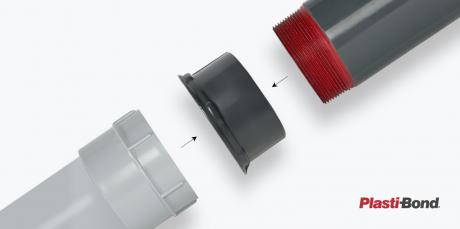 The extra-thin construction of the sleeve allows threading of just 2-1/2 threads, leaving at least 7 threads for complete conduit engagement.
Plasti-Bond's sealing locknut is specially formulated with UL-recognized PVC materials, tested for aging-resistant compressive and tensile properties. Plasti-Bond sealing locknuts are easy to install and tighten at joints, requiring only a strap-wrench and lube to fit the sleeve over the PVC-coated conduit.
Sealing locknuts are especially useful in transitions from PVC encased in concrete and any female NPT thread that is not coated, and therefore does not provide a sealed system.
P5SA™ Plug 5 Safety Assurance
Plasti-Bond's patented P5SA™ validation system on sealing fittings visually confirms that our urethane-coated plugs correctly engage the first time, every time.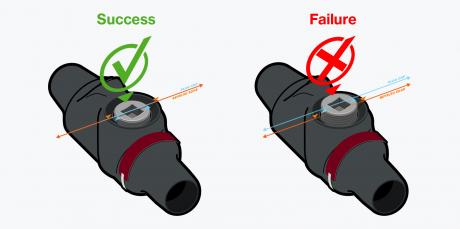 P5SA™ allows positional feedback of the urethane-coated plug for proper installation without compromising optimum corrosion protection. The new design provides visual validation, ensuring the plug does not protrude beyond the PVC's beveled edge and that 5 full threads are engaged.
Plasti-Bond's P5SA Plug ensures that there are 5 full threads of engagement per NEC code, critical for safe installation and a proper flame path.
PVC-Coated SpeedCouple
The simplified installation of Plasti-Bond's new PVC coated SpeedCouple is ideal for applications with limited space or where turning conduit or elbows may be difficult, saving time and money.
SpeedCouple is concrete tight and suitable for direct burial. This makes it a preferred choice for duct bank applications where groups of conduit protect and consolidate cabling. It is available in trade sizes 2" through 6".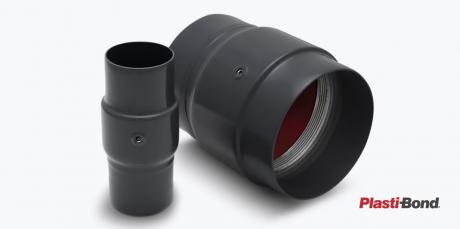 Plasti-Bond PVC-Coated Stainless Steel Threaded Rod
Plasti-Bond's combination of PVC coating and 304-grade stainless steel enhances corrosion resistance. It also allows for a faster and easier installation and eliminates the need for field re-threading.
This PVC-coated rod is typically used with overhead and trapeze mounting and a range of coated products. It is available in 3/8" (35 mils) and 1/2" (25 mils) diameters. Lengths are 6' and 12' lengths.
Plasti-Bond PVC Coating Repair Kit
Repairing damage to the exterior PVC coating of a conduit helps to maintain the product's integrity and improves its appearance. Plasti-Bond's PVC coating repair kit is a two-part epoxy cold weld system, formulated to bond to steel, aluminum and PVC substrates. The kit includes all tools necessary for a quality, long-lasting repair to small areas with the application of an epoxy patch.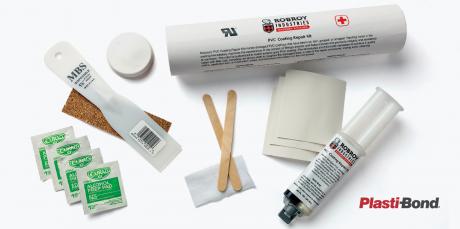 Repair Kit Includes
Emory Cloth – Preparing the Surface
Mixing Tools
Cleaning Cloths
Applicator Tool
Instruction Sheet
Chemical Information (SDS) for the Compound
After curing for 3-4 hours, the epoxy forms a permanent bond that can be shaped, tapped, filed and sanded. It is then resistant to water, gasoline and other petroleum products. The PVC Coating Repair Kit is UL-recognized and tested for flame propagation safety.
Learn more about why Plasti-Bond Conduit and Fittings are the right choice by visiting the Why Plasti-Bond page.