Ready to Schedule Your Installer Certification Training?
The Importance of Certified PVC-Coated Conduit Installation
A proper PVC-coated conduit installation can have great impact on an electrical project's safety and financial investment. That's why when specifiers select Plasti-Bond PVC-coated conduit, they often require an installer who is certified by the manufacturer.
Your installer certification card tells project contractors that you, or those you supervise, have the professional expertise to properly install this important product. It is also proof that you understand what is necessary to avoid costly product failures during installation or following completion of the project. No owner, end-user or contractor wants to discover that their investment needs to be replaced prematurely.
Project specifications can state, "Installers must be certified and able to present a valid, unexpired Installer certification card."
Why Become A Certified Installer?
Proper and efficient installation of PVC-coated rigid metal conduit and fittings is a critical goal for every electrical raceway project. As a certified installer, you can ensure installations are safe and meet all specifications. This results in cost-savings for you and your clients.
As a result of your installation training, you may also discover additional financial benefits. The efficient and accurate completion of an installation often allows you to move on to your next project faster, optimizing your schedule, manpower and assets.
Plus, earning your certification just makes good business sense. Your certification card can open doors to more jobs than installers who are not certified.
Another benefit is that your installation training provides the latest on industry products, technology and standards. Installers certified in Plasti-Bond product installation also have access to continued educational opportunities. Plus, you will learn tips and advanced installation techniques that can really assist you on the jobsite.
One example would be Plasti-Bond's PVC-Coated SpeedCouple. This innovative fitting lets you install faster in tight spaces without having to turn the elbow. Your installation training would also tell you that the SpeedCouple is most useful in the close quarters of an underground space.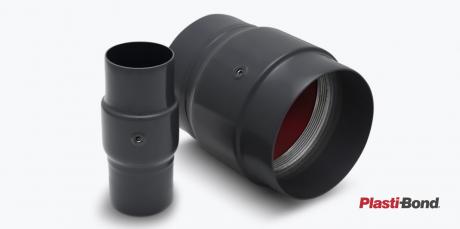 Professional hands-on training and certified installation of PVC-coated conduit and fittings can also reduce human error. Errors can lead to rework or product replacement, major delays for contractors and an increased potential for liability and property damage. Knowing and utilizing proper installation techniques from the start is the best way to protect PVC-coated conduit systems from harsh corrosive environments.
Certification Process
Following training and your installer certification exam, you will be issued an official certified installer card. Cards are valid for two years from the date of issue. The expiration date ensures everyone installing PVC-coated conduit remains current on the latest installation techniques and tools.
Installer Certification is free of charge and is available at the job site, contractor's office, our facility, or virtually for convenience and ease of scheduling.
Who Else Could Benefit from Installer Certification Training?
Specifiers / Engineers – Understanding proper installation and product service life performance can assist specifiers in being more effective and create a comprehensive specification package. 

Contractors – Ensuring an efficient and cost-effective installation helps contractors provide added value for their clients and stay on time and on budget. 

Owners / End-Users – Learning how they can protect their investment in a plant or facility, reducing their total cost of ownership with low maintenance and repairs.  
What It is Included in the Training?
Installer Certification training is led by experts in corrosion protection and includes classroom demonstrations and hands-on instruction. The program focuses on proper installation techniques and tools.
Instruction topics include clamping, cutting, threading, hand-bending and assembly and best installation practices.
This training also features interactive discussion of techniques and troubleshooting, such as damaging the coating or cuts in the PVC. Manufacturer repair kits are designed specifically for the Plasti-Bond product.
Only installers who are able to present the authorized, unexpired credentials of having passed our instruction and examination are officially certified to install Plasti-Bond's top-quality products. If your installer certification card has expired, online recertification is available. Click here to get re-certified online today.
For more information about Installer Certification, contact Plasti-Bond at (903) 843-5591.