Image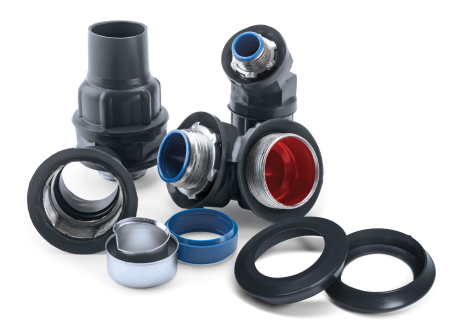 Question
Hey Chris, I'm encountering some exposed threads when I make my transition from a PVC liquid tight fitting to a PVC-coated conduit body. Do you have anything to help with this?
Answer
This a great question. As you probably know, exposed threads are the weakest link in any conduit system, as they are the most vulnerable to corrosion. We absolutely do have something to help with your transition, and it actually won't cost you anything extra.
Our PVC-coated liquid tight fittings in ½"-2" trade sizes now come standard with our new PVC Liquid Tight Transition Adapter. The adapter's unique, simplified design helps it fit snugly against the female end of a conduit body with the sleeve trimmed. This eliminates the risk of exposed threads when making your transition, and allows for the recommended minimum 3 ½ thread engagement of male liquid tight threads.
Even better, the use of the PVC transition adapter reduces the number of components that you need to transition raceways, saving you material time, cost, and space. You can order PVC liquid tight fittings with transition adapters included by reaching out to csr@robroy.com or calling 903.843.5591. You can also download our simple installation guide for the transition adapter here.