Image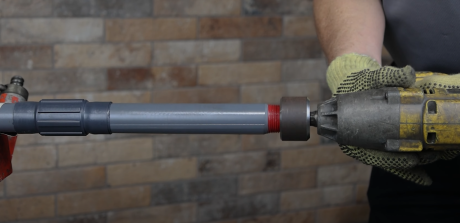 Question
Chris, any suggestions on how to properly tighten PVC-coated conduit and couplings without damaging the coating?
Answer
Absolutely! For 3/4" to 2" conduit, use our specialized Spin-It tool. It's designed specifically to help tighten conduit while never touching the coating, eliminating the potential for damage. Simply attach the Spin-It to a cordless impact driver, engage the open end of the tool onto the threaded end of the conduit, then run the driver to completely tighten the conduit. It's faster and easier than conventional tools, and it never makes contact with the PVC coating.
Z-Wrenches are another great solution for tightening both conduit and couplings. They feature extra-wide jaws that spread the clamping force, enabling the tool to grip without marring the surface of the conduit. The "V" shaped upper jaw allows the Z-Wrench to accommodate a wide range of conduit and coupling sizes, while shallow grooves in the upper and lower jaws provide an excellent grip. They are available in configurations for sizes 1/" to 1-1/4" or 1-1/2" to 2-1/2".
For larger size conduit and couplings, we recommend using a strap wrench. 
See the Spin-It and Z-Wrench in action, along with more useful assembly tools by watching How to Assemble PVC-Coated Conduit.