Image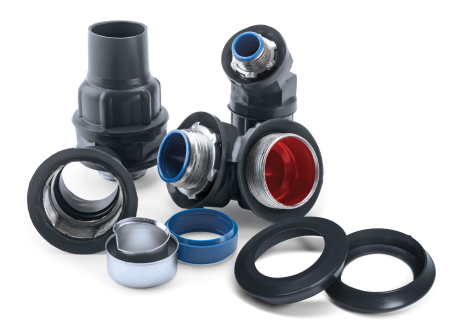 The New Plasti-Bond® LT fitting with Transition Adapter Saves Material Cost, Time, and Space
PVC-Coated LT Fittings are used to connect and terminate liquid tight flexible metallic conduit (LFMC) to a box or enclosure. The liquid tight fittings protect conductors from mechanical damage due to vibration and movement and seal out water, oils, coolants, and other contaminants. Typically used with process controls, motors, pumps, and processing equipment in tough, industrial, and wet corrosive locations, they are often connected directly to a conduit body to transition from LFMC to PVC-coated galvanized rigid conduit (GRC).
The new Plasti-Bond® PVC Liquid Tight Transition Adapter makes possible a better liquid tight system installation that maintains same corrosion protection in a compact, low-profile setup. We are proud to announce that this innovative adapter is supplied standard with Plasti-Bond Liquid Tight Connectors. 
Uniquely Designed
The PVC LT Transition Adapter is a unique product that is designed to significantly improve and simplify the installation process, reducing the number of components required and saving material and procurement costs, assembly time, and installation space. It also provides a better installation by maintaining the system's environmental rating integrity and eliminating the risk of exposed threads where corrosion can occur.
Made from UL approved gray PVC plastisol material, the PVC LT transition adapter provides the highest resistance to corrosion, flexibility, and compliance with safety standards. The product's specially formulated gray color plastisol provides long-term UV resistance and prevents deterioration when exposed to harsh environmental conditions. The color also matches other Robroy product coating colors for a visually appealing, professional installation.
Simple, Straightforward Installation
With the sealing sleeve removed from the female conduit body hub, apply PVC touch-up compound to the exterior of the conduit body female hub and attach the PVC transition adapter onto the female hub
Thread the mating PVC-coated liquid tight male threads into the conduit hub entry
When it comes to corrosive environments, the new Plasti-Bond® PVC LT Transition Adapter saves material cost, time, and space with a PVC-coated installation that offers the highest resistance to corrosion and an improved system installation when transitioning from LFMC to PVC-coated rigid conduit.
The new adapter replaces the need for the LTR fitting when connecting a liquid tight fitting into a conduit body with NPT threads. If the raceway transition is from a LT fitting to conduit (with a coupling), a LTR fitting will still be the proper method because the threads on the conduit coupling are straight (not NPT) threads.
Transition Adapters are included as standard with LT fittings in ½"-2" trade sizes in straight, 45°, and 90° configurations with and without ground. Plasti-Bond PVC Coated Fittings are UL E200413 listed, and PVC coated fittings with grounds lugs (for bonding and grounding) are UL E217890 listed.