Image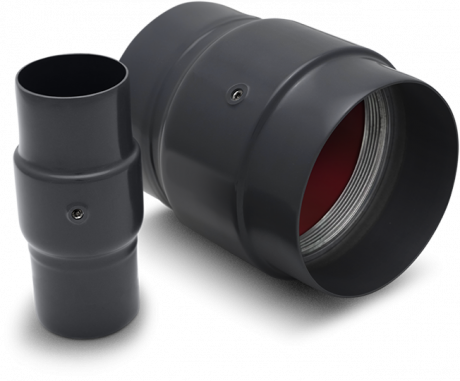 Plasti-Bond is pleased to introduce our newest PVC coated product that simplifies and improves installation in the most demanding environmental conditions – the PVC coated SpeedCouple.  The PVC coated SpeedCouple improves job site efficiency and productivity by allowing the connection of conduit and elbows without having to turn the conduit.
Typically, in order to join or connect two pieces of coated conduit, or elbows and conduit, a coated coupling (where both conduits or elbows can be turned) is used.  Unions can be used, but are typically designed for use in hazardous location areas and can be a costly alternative. For many installations, although functional, using a union results in the use of a product that is over-engineered for the application.
Ideal for applications with limited space or installations where turning conduit or elbows is difficult, the PVC coated SpeedCouple allows for a simplified installation, eliminating the need to turn conduits or elbows, saving time and money.
To Install:
Tighten the set screw and install the coupling by first threading the larger OD of the coupling (sticker end) onto the conduit or elbow. Use care to ensure coupling and conduit or elbow are properly aligned to avoid cross-threading.
Loosen the set screw located in the central body of the coupling. This will disengage the internal swivel ring and allow the coupling to move to allow for proper alignment with the second piece of conduit or elbow.
With the coated coupling and the conduit properly aligned, thread the other end (smaller OD) of the coupling onto the conduit or elbow.
Tighten both ends as necessary with Z-wrench or strap wrench so as not to damage the outside PVC coating.
Tighten the set screw to lock the internal swivel ring in place.
The PVC coated SpeedCouple is approved as concrete tight and is suitable for direct burial. This makes the PVC coated SpeedCouple the preferred choice for duct bank applications where groups of conduit are designed and installed to protect and consolidate cabling to and from buildings or equipment. With the PVC coated SpeedCouple, Plasti-Bond can offer the best solution aligned with the application!
Product Information
Available in trade sizes 2" through 6"
40 mil gray PVC exterior coating, urethane interior coating
Sealing Sleeves on both ends
Stainless Steel Locking Screw
Lead-in threads facilitate threading & ground continuity
Concrete tight
Suitable for direct burial
Materials
Steel coupling, stainless steel locking screw
Certifications
UL 514B
CSA C22.2 No. 18.3-12
Concrete tight
Direct Burial
File no. E200413