No one can be an expert on all products. So, knowing and understanding listings and labels will help owners and specifiers select the highest quality products and ensure a reliable service life that will perform well over time.
When selecting a product like PVC-coated GRC, you're not going to accidentally install it. There is an imperative that it performs the way it was intended. It is going into areas where traditional products might quickly corrode or where there are certain risks that may impair safety or operations.
Plasti-Bond offers a complete line of PVC-coated conduit, fittings and accessories to provide corrosion resistance for your electrical raceway systems in the most demanding environments.
Based in the U.S.A., ISO 9001-certified Plasti-Bond complies with standards mandated by UL 6, NEMA RN-1, ANSI C80.1, ETL PVC-001, IEC IP69/UL Type 4X and UL 1203. Plasti-Bond is ETL Verified for product performance and reliable longevity — ETL Verified PVC coated conduit provides product service life lasting 10 times longer than conduit that does not carry the ETL PVC-001 label.
Check the label to validate if the product being used carries a specific listing.
Here is an example of the ETL PVC-001 label. In order to ensure performance when specifying products for corrosive environments, select those that carry an independent product testing label, such as the ETL Verified Mark. When it comes to safety, make sure the PVC coated conduit being used carries the UL listing, where both the PVC and Zinc are listed as primary protection.
ETL PVC-001 Label and Levels of Protection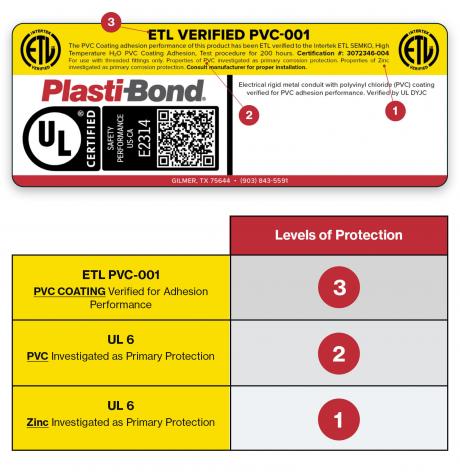 The chart shows listings you should look for as it correlates with the level of coating performance and protection. Testing and conformance for Level 1 and Level 2 are covered under the UL 6 listing that also covers DYJC Complimentary listing. If a PVC coated conduit is listed under UL 6, the DYJC Listing requires only a clerical function for the additional listing and no further testing. Testing and conformance for Level 3 performance is regulated by ETL for compliance.
Technical Info
Quality, Standards & Compliance
ISO 9001 is a recognized quality management system (QMS) and is the only ISO standard in the 9000 series that requires certification. ISO Certification is a seal of approval from a third-party body that a company runs to one of the internationally recognized ISO management systems. The certification serves as a proof of the company's credibility and to instill confidence in potential clients that it will keep its promises. Additional benefits to customers of ISO 9001 certified organizations are improved quality and service, on-time delivery and confidence that things will be right the first time – every time.
UL 6
UL 6 is the standard for safety for electrical rigid metal conduit. Steel, used in elbows, couplings and nipples, is the common ANSI, CSA, and UL standard in accordance with CSA C22.1, Canadian Electrical Code, Part 1, NOM-001-SEDE, Standard for Electrical Installations, and NFPA 70, National Electrical Code for installation of wires and cables in metal raceways.
"UL Listing is a valuable and trusted tool to facilitate acceptance of equipment. The authorization to apply a UL Listing Mark must be earned through rigorous examination, testing and surveillance that demonstrate compliance with nationally recognized safety standards." UL.com 
UL 6 references requirements for material properties, dimensions and testing to evaluate zinc coating protection for ERMC-S. Supplementary nonmetallic coatings undergo tests involving flame propagation, coupling fit and electrical continuity with coupling. If PVC is listed as primary corrosion protection, it must also undergo: salt-spray (fog), water, moist carbon dioxide-sulfur dioxide-air and ultraviolet light tests, cold impact, tensile strength and adhesion tests.
Electrical conduit also covered by UL 6A: Standard for Safety for Electrical Rigid Metal Conduit – Aluminum, Bronze and Stainless Steel; UL 797 & 797A - Electrical Metallic Tubing; and UL 1242 - Electrical Intermediate Metal Conduit
NEMA RN-1 is an industry standard that covers continuous PVC exterior coatings, corrosion resistant interior coatings and galvanized steel conduit, as well as couplings and elbows. It states that conduit must follow ANSI C80.1 and UL6. NEMA RN-1 provides properties and dimensions of coating and is intended as an aid for selecting proper coating.
Additionally, NEMA RN-1 sets guidelines for post cutting/threading protective coatings, thickness of PVC and requirements for hardness, tensile strength, elongation, dielectric strength, brittleness temperature, abrasion resistance, bend-ability and artificial weathering. Each in accordance with ASTM testing methods. The guidelines also outline best practices for cleanliness of conduit, proper use of primer for adhesion and workmanship/appearance (Finish shall be free of blisters, bubbles and pinholes). The NEMA RN-1 standards set protocols for PVC adhesion pull test (bond stronger than PVC).
Similar to NEMA guidelines, the goal of ANSI C80.1 is to set consistency in the manufacturing of electrical conduit.
Length, circular cross-sections, wall thickness, surface specs, cleaning, welding, zinc coating, threading and identification are all covered by ANSI C80.1. Additionally, testing procedures incorporated within the standard are ductility of steel, ductility of zinc coating, thickness of coating and quality of enamel coating of interior surfaces. ANSI C80.1 also sets guidelines for inspection.
ETL PVC-001 is an internationally recognized listing based on performance evaluations and service life predictions. ETL PVC-001 is an ETL Verified mark specific to PVC-Coated Conduit. ETL Verified is a product certification mark that demonstrates that a product has met certain design and performance standards. The ETL Verified mark serves to denote an elevated level of quality and reliability for a product, signaling to consumers that a product meets high standards. Intertek/ETL evaluated PVC coated conduit based on tests for evaluating performance. The main purpose of a coating is to make sure it adheres. ETL PVC-001 utilizes two accelerated test methods to test adhesion of PVC coating.
ETL PVC-001 validates the coating performance of PVC-coated galvanized rigid conduit based on ASTM D870 and ASTM D1151/ASTM D2247. The first is ASTM D870 Hot Water Immersion. This test requires 200 hours in boiling water at 212ºF.  The second is ASTM D1151 Exposure to Heat and Humidity for 90 days at 95 percent relative humidity at 150ºF. After each of these tests have been conducted, the adhesion of the PVC coating to the metal is tested using the NEMA RN-1 pull test. For the interior urethane coating, a scoring and tape quality check is used to test the adherence. Another important part of the independent validation is that samples are tested in exact same conditions on a quarterly basis by Intertek/ETL.
Manufacturers that carry the ETL Verified PVC-001 mark have a documented, proven ability to perform in a corrosive environment over an extended period of time. A fact that has been evaluated and confirmed by a world-recognized, independent, third-party source.
The IP Code (Ingress Protection Code) IEC standard 60529 classifies and rates the degree of protection provided by mechanical casings and electrical enclosures against intrusion, dust, accidental contact and water. IP Code is interpreted by some as International Protection Code. The IP Code is published by the International Electrotechnical Commission (IEC).
Ingress protection ratings can be identified by the letters IP, followed by two numbers. These two numbers determine the amount of protection against specified elements and the product's ability to resist foreign matter. The first number (scale 0-6) refers to the product's ability to resist ingress of solid matter, such as dust. The second number (scale 0-9) refers to the product's ability to resist ingress of high temperature steam/high-pressure water. The larger the number, the greater the protection provided. The IP69 rating is the highest protection available.
Testing for IP69 includes a set of tests for protection against solids and liquids. The dust test is conducted in a closed dust chamber containing 2 kg/m3 of suspended talcum powder particles of 50μm diameter or less. The powder is circulated for 8 hours at a rate sufficient to cycle the volume of powder present at least 60 times.
In order to bear an IP69 label for protection from water intrusion, the water jetting test is conducted by placing the enclosure on a turntable that rotates every 12 seconds (5 rpm) and spraying 176ºF (80ºC) water from 4-6 inches at a flow rate of 4 gallons per minute. Water is sprayed at angles of 0, 30, 60, and 90-degrees for 30 seconds each. Products tested to the IP69K standard, undergo a water pressure of 1160-1450 psi throughout the testing procedure. Following this rigorous testing procedure, the product successfully achieves the rating if it completely resists water ingress.
UL Type 4X indicates that it also meets all of the requirements for a watertight enclosure, corrosion protection and appropriate coatings according to UL 514A.
UL 1203 is the recognized safety standard for hazardous location and dust ignition-proof electric equipment for use in hazardous locations. The UL Listed Mark is applied only to products that are manufactured and regulated in accordance with UL requirements. UL testing validates the assembled system for the best continual corrosion protection for safe performance as required in the harshest environments.
Products carrying the UL 1203 certification are labeled with a required, permanently attached metal tag showing a UL 1203 certification mark. This mark will instantly let inspectors and installation professionals know that the product will deliver safe and proven protection.